INSULIN RESISTANCE
OBESITY
HAIR LOSS
ACNE
UNWANTED HAIR GROWTH
IRREGULAR PERIODS
REPRODUCTIVE HEALTH PROBLEMS
YOU MAY HAVE PCOS
READ FURTHER TO FIND OUT MORE ABOUT PCOS AND
HOW SINOPOL® HELPS TO CORRECT THE HORMONAL AND
METABOLIC IMBALANCES IN WOMEN STRUGGLING WITH
POLYCYSTIC OVARIAN SYNDROME (PCOS)2
WHAT IS POLYCYSTIC OVARIAN SYNDROME (PCOS)?
PCOS is a hormonal disorder among women of reproductive age that involves hormonal imbalances and metabolic abnormalities such as insulin resistance, dyslipidaemia (high levels of cholesterol in the blood which increases the risk of clogged arteries, heart attacks or stroke), hypertension (high blood pressure) and excess weight which significantly increase the risk of infertility, type 2 diabetes, cardiovascular disease and affect quality of life.3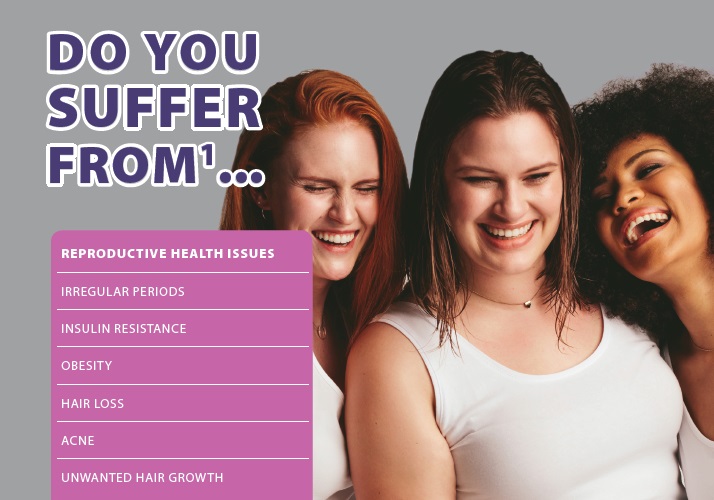 WHAT ARE THE SYMPTOMS AND SIGNS OF PCOS?
PCOS may present with different symptoms at different stages of a woman's life.5
Common symptoms and signs of PCOS are:
Menstrual irregularities or no periods at all, due to not ovulating5
Several ovarian cysts5
Unwanted hair growth on the upper lip, face, arms, back, chest, thumbs, toes or abdomen (hirsutism), due to an excess of androgen hormones (male hormones)5,6
Thinning hair on the head6
Acne5
Insulin resistance is a complex condition where muscles, fat, and liver do not respond well to insulin and are unable to use glucose from your blood for energy. High insulin levels in the blood stream cause hormonal imbalances which can lead to excess androgens, no ovulation and therefore reproductive health issues. Further problems may include obesity, high blood pressure and cholesterol and type 2 diabetes.5,7
The exact cause is unknown, but it is considered to be caused by hormonal imbalances. Up to 80 % of women with PCOS are insulin resistant, which plays a major role in the development of hormonal imbalances. Genetic, environmental and lifestyle factors are believed to be involved in the development of PCOS.5,6,8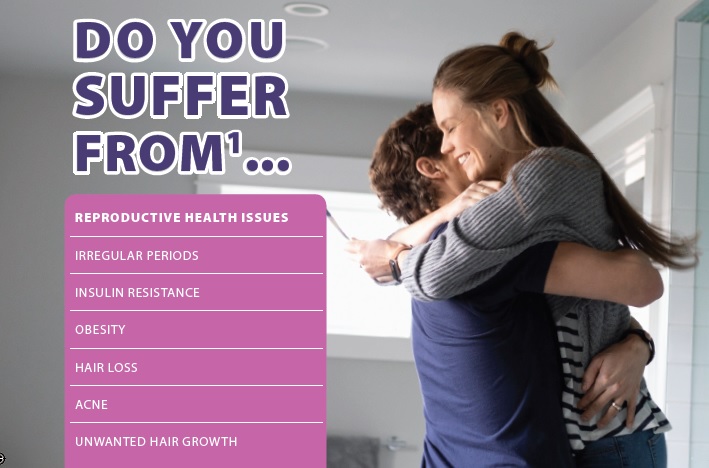 WHAT ARE THE CONSEQUENCES OF PCOS?
PCOS not only affects your body physically and emotionally, but also has several health risks, including an increased risk of heart disease, diabetes and some female cancers.5
Reproductive health issues affect 40 % of women with PCOS. In fact, approximately 90 % – 95 % of women presenting to infertility clinics and who do not ovulate, have PCOS.9
The nature of PCOS may increase the risk of pregnancy complications such as the development of high blood pressure, premature births or low birthweight babies.5
SINOPOL® is a supplement which contains alpha-lipoic acid, myo-inositol and folic acid.2 These 3 ingredients work together to help women with PCOS restore balance to their hormones and metabolic indicators such as insulin, glucose and cholesterol, and to help regulate menstrual cycles and therefore improve reproductive health.2,4,10

1. ALPHA LIPOIC ACID
Is a powerful antioxidant which reduces oxidative stress and helps to promote healthy glucose metabolism.2,11 It may also help reduce body weight, body mass index and waist circumference.12
2. MYO-INOSITOL
Helps reduce insulin resistance in women with PCOS, and therefore may help with hormonal balance. Myo-inositol and alpha-lipoic acid work together to help improve reproductive health.2,4
3. FOLIC ACID
Helps to form red blood cells, and also helps to prevent neural tube defects (a birth defect) in unborn babies.2

CLINICAL RESEARCH
Clinical studies on myo-inositol and/or alpha-lipoic acid have demonstrated improvements as follows:
Reduced unwanted hair growth10
Reduction in body weight12
Reduced testosterone (an androgen) levels13
Reduced insulin resistance14
Improved reproductive health (in patients on in-vitro fertilisation (IVF) cycles)4
HOW IS SINOPOL® AND SINOPOL® HIM TAKEN?
DOSAGE AND DIRECTIONS FOR USE2,15
Take 1-2 sachets daily at least an hour before meals. For optimal results, take 2 sachets daily, 10 hours apart.
Add contents of sachet to a small glass of water, mix well and drink immediately.
Due to the fast-slow technology, granules will still be visible in the solution.
Do not wait for the granules to dissolve as these are responsible for the slow release to ensure 24-hour coverage.
Rinse glass with additional water and drink to ensure all granules are swallowed.